What is the best color for gray hair? Read to get more insight on best gray hair color. Learn how to grow out using the best products for gray hair such as henna hair dye and catalase gray hair process.
Gray Hair Color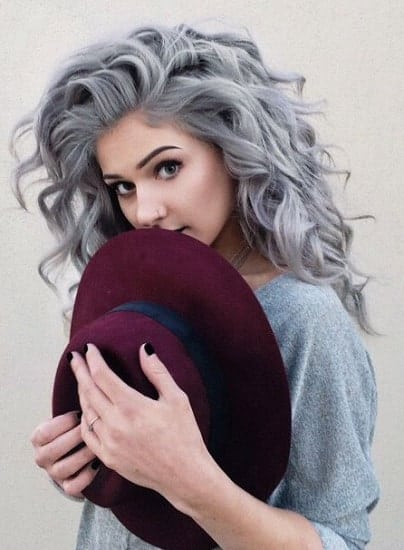 "For locks that are about 20 to 25 percent gray, use a demi- or semi-permanent hair color that's closest to your natural tone to blend away the grays with minimal damage," [ Bab May, owner of Bab & Company Hairdesigners of Carmel, Ind]. "Both types deposit color into your hair without ammonia; however, the demi-permanent color uses a stronger concentration of hydrogen peroxide to open up the hair cuticle and inject more color. As a result, the demi-permanent color lasts almost twice as long as semi-permanent. Semi-permanent color delivers a rich, shiny color, but fades out in six to 12 shampoos."
This tells that you need to careful and wise before deciding on your gray hair color. For the beginner, going for non-permanent gray hair color can be the best option. "Semi-permanent color will not completely color gray, but can stain it enough to make it look like a highlight against the darker color," she says. "After the color has disappeared at the end of six to eight weeks, the client will have a better idea of the possibilities available to them in professional hair color." [Ceilon Aspensen, owner and manager of Salon Simpatico in Bozeman, Mont]
As time goes by, permanent gray hair color may be the priority given that more growth of the gray hair is taking place. "There are some clients whose gray is covered very well by demi-permanent color, but it gets to the point where they get grayer and it doesn't cover," [May]. "Most permanent colors contain ammonia, which opens the hair cuticle to allow the color to penetrate much deeper than without it."
Best Color for Gray Hair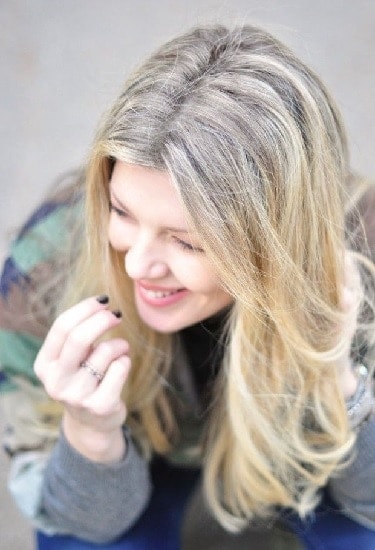 Finding and selecting the best color for your gray hair can be intimidating. There are various tips on how to choose the best gray hair color. They include the following in a nutshell.
Warmer bright colors that have golden tons are the best for gray hair. These will contrast the blue and ashy tones of the grey hair. Golden or red tone makes you look bright and shiny.
The package or wrap box always have description and color illustrations of how it looks to have the color you have chosen. Such information is what seems more relevant other than just the name of the brand.
Select a gray hair color that is within the three shades of your natural hair color. Too light or dark shades can cause the appearance of the root coming up.
Grey hair is said to be tough and coarse. A good conditioner that can accommodate your color should also be considered to promote tonic and moisturizing.
"Try enhancing grey hair without covering it,' [Denise]."Ask your hairdresser to use warm tones on silver, but don't go darker than your original color or it may look harsh against skin.'
She says: "A good cut is crucial. Long, loose grey hair suits few women. Much chicer is to have a well-cut bob, a short crop or to put it up in a chignon."
Products for Gray Hair
Want to make your grey hair look shiny, healthy and gorgeous? Meet a variety of products for grey hair that will help you in accentuating your silver appearance to make you the most flattering woman. Actresses Helen Mirren, Jamie Lee Curtis, and Judi Dench are among the celebrities who shows that silver is a fashion.
"Often, coloring grey hair can age you – a harsh block color against older skin can look severe."[Carole Michaelides, consultant trichologist at the Philip Kingsley clinic in London], "Grey hair is elegant and sophisticated. All it needs is the right maintenance."
'The greying look is white hairs growing alongside your normal color." Unfortunately, this colorless hair also becomes more porous. "It easily absorbs chemicals from the environment such as smoke and pollution, which can give a yellow tinge," [Carole].
There are products for gray hair that can easily combat this problem. They include shampoo for gray hair such as L'Oreal Professional Serie Expert Silver Shampoo, Trevor Sorbie Color Silver Shampoo among others. Conditioners are also necessary for giving your gray hair a gloss. Example of such conditioners includes Pure Silver Conditioner by Philip Kingsley.
There are other products that can increase the volume of the hair and thickness by nourishing. They contain mineral elements essential for thickening. Examples include John Frieda Luxurious Volume Thickening Mousse. Brushing with the right brush is also a necessary requirement. Using Denman D74 Medium Hot Curling Brush can give your hair a smooth texture and also raises it to increase its volume.
Top Gray Hair Products (Shampoo)
Where to find Top Hair Products (Centers)
Best gray hair products can be obtained from the following places at a pocket-friendly price.
Amazon
Walgreens
Beautydeals
Goddness-Within
Nextag
How to Grow Out Gray Hair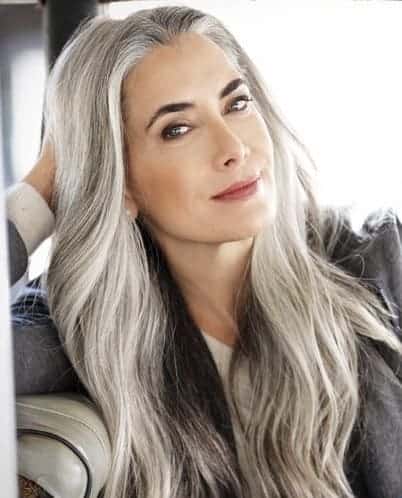 It comes a time when someone decides to experience something natural when it comes to gray hair. It could be that you want to save on time or money. Maybe you have experienced or hard of dangers that chemical substances put your health at. All this among others may make you say welcome to natural hair and let it grow out.
Techniques on how to grow out gray hair depend on the previous treatment you have had for the gray hair before. For pigmented hair, it is relatively straightforward in following some few procedures. For dark hair, you could let it grow as you lighten your natural color though it will also be more complicated. You can as well darken your color with a tint.
Cutting your grey hair often should be an easy way on how to grow out gray hair. This shortens out the time for growing it out without much hustle. Highlights or lowlights can be used in creating the blend and easy transition of the gray hair color to natural.
Permanent or demi-permanent gray hair color can be used. The only problem with permanent color is that not all gray hair will be covered. Though it is best at blending it as you perfect the transition. Demi-permanent can be the ideal since it will fade as time goes by. This leaves the natural gray color appearing in a glow.
Henna Hair Dye for Gray Hair or Henna for Gray Hair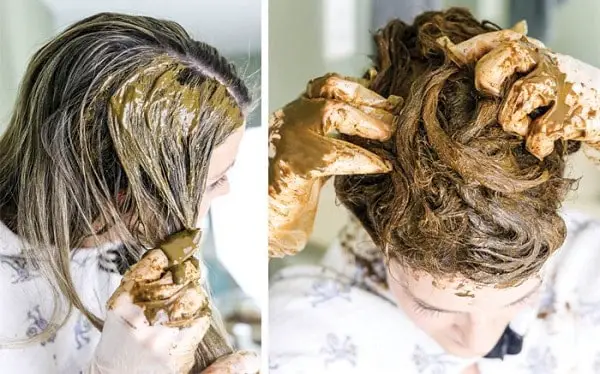 You might be having an idea to go for something natural in covering your gray hair. Henna hair dye for gray hair can be what you are really thinking about. Before fully making the choice here are some few things to know about henna.
The preparation is so direct since you only take few minutes to melt the henna in water. The mud-like substance is formed within a moment and only the smell signifies you to apply now.
Beware that this substance stains and can be that messy. Use gloves and carefully to avoid the spill. Otherwise, you will be required to do it while standing in the shower.
Apply a protective shield on the skin since you expect serious staining. Example of the gel you can use is Vaseline if not something like Lush's Ultrabalm.
If you are in a hurry, then sorry. Henna hair dye for gray hair takes time for the hair to develop the color. Five to seven hours with a plastic wrap on the head may not be tolerable by some people.
Don't expect 100% effectiveness in coloring. Especially for roots and highlights, the color may not be evenly distributed.
So unfortunate that henna will not allow you to other coloring alternatives like permanent gray hair dye. But you are only luck that semi-permanent dye can be a fix in the while.
Therefore these tips should be considered before your decision on using henna for grey hair. Let me finalize by looking at something small you ought to be aware of, and is none other than:
Catalase Gray Hair
There are supplements containing vitamins, minerals, and enzymes that can be consumed to stop grey hair. The new research is also based on enzymes to catalase gray hair. Insufficient levels of catalase lead to stoppage breakdown of hydrogen peroxide to oxygen and water. This causes the oxidative stress that makes the hair to bleach itself from inside out.