What is the best auburn hair dye? Get more insight on best brand for light, dark, and medium auburn hair dyes for dark and black hair among others discussed in the post.
Best Auburn Hair Dye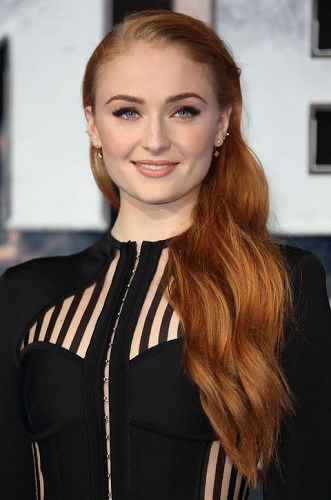 Auburn is a reddish-brown nuance of red hair color and it exists in the variety of shades ranging from light to dark. This is a new hair color that makes many celebrities to step in the spotlight. Auburn nicely accent light or fair skin girls and the variety of shades offer a choice for your eyes color.
If you have warmer red tones describing your skin complexion. Cooler colors are the best complements to create the vibrant appearance. Warmer colors will clash making you look washed out. Your makeup should be changed right as you change your hair color. This helps in making your other features to stand out and look stunning.
Tips on Application of Auburn hair Dyes
Red tones easily wash out and you will need a red tone gloss to maintain the sparkling glow.
Do not shampoo your hair regularly after the application of the dye. Use pigmented shampoo and conditioners to maintain the vibrancy of your hair.
Shampoo your hair one day before coloring. If you do it immediately you will be washing out the natural oils that protect your scalp during the hair dyeing process.
Staining may occur on your skin and a moisturizer around your hairline can prevent. Petroleum jelly can be applied instead.
If you want to relax your hair, do it and wait for at least seven days before shampoo and coloring.
Any abnormal side effect should be reported to the doctor immediately after rinsing out the dye with a lot of water.
Purchase sufficient amount of dye for your hair to avoid shortage during the application. Most kits have enough for average hair. If your hair is beyond shoulder length then you need about two kits.
Your current or natural hair color should be the gauge for the right formula selection. Lightening your hair more than two shades at once can give you the worst appearance ever.
Harsh shampoos should be avoided especially the dandruff treatment ones are not ideal for colored hair.
Protect your hair while outside in the sun or in the rain. Use a cap or products that contain UV protection agents. This will make your new hair color to last long without fading.
Crazy hair colors like purple may look unnatural and if you desire red then go for Auburn, copper or strawberry for a stunning natural appearance.
Perform stand test every time you want to dye your hair for optimal timing and color outcome.
Top Best Auburn Hair Dyes
Garnier
Garnier Nutrisse is among the most popular producers of red hair color products. If you have a natural medium to dark brown hair, there are Garnier hair dye red shades that will tone your hair without giving it orangey appearance. The ingredients used are safe for your health and they also nourish your hair giving you a natural appearance.
L'Oreal Paris
L'Oreal Paris has the best hair care products ever known. If you want to go auburn there are best brands of hair dye such as Excellence Creme with Pro-Keratine Complex in the 4R dark auburn shade that will give you that flattering appearance. Your hair requires maintenance using a suitable conditioner and shampoo products which you can still get them all at L'Oreal Paris.
Revlon
The color silk line of products forms Revlon is perfect for accentuating your hair. Your desire of going red can be achieved by obtaining Luminista hair color in red 150 that can enhance the radiance of your warm skin undertones. The range of products are price friendly and you can obtain them from a nearby drugstore, Walmart, Walgreens or Amazon.
Clairol Nice 'N Easy
Clairol has a wide range of products for your hair. The 6R light auburn shade among others is all you need to attain your fabulous auburn hair color. For dark brown, brunette and blonde, conduct your colorist to suggest you the right tone or shade that will make you look naturally vibrant.
Light Auburn Hair Dye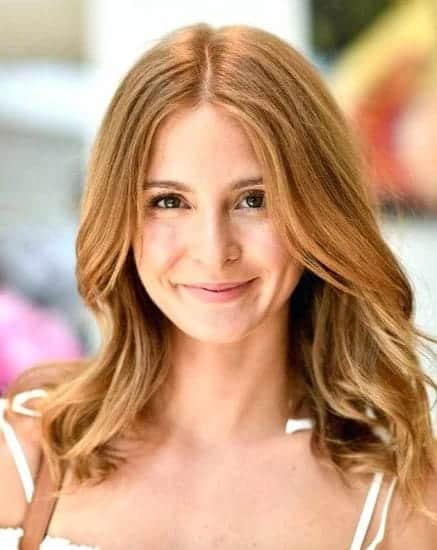 Red hair colors are vibrant though they can easily look unnatural. Light auburn looks stunning for warm skin tones individuals. For your natural blonde hair, going light blonde is not hectic as when you are dark or black hair.
Dark or black hair requires pre-lightening before the application of light auburn hair dye. Bleaching is a hair damaging process and if your brown is your natural hair color, few lightening levels are ideal to give you the leeway for this natural looking red shade.
Best Light Auburn Hair Dye Brands and Shades
Garnier Nutrisse Light Auburn (Ginger Spice)
L'Oreal Preference 6R Light Auburn
L'Oreal Excellence 7R Red Penny
L'Oreal Excellence 6R Light Auburn
L'Oreal Excellence 6RB Light Reddish Brown
Sublime Mousse 56 Spicy Auburn Brown
Revlon Colorsilk 53 Light Auburn
Revlon Colorsilk 55 Light Reddish Brown
Natural Instincts 16 Light Auburn Spiced Tea
Natural Instincts 22 Medium Auburn Brown Cinnaberry
Dark Auburn Hair Dye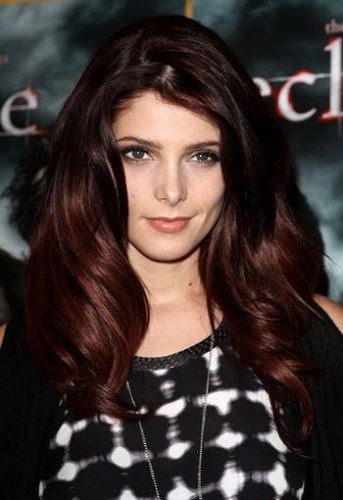 Dark auburn hair dye is the best way to lift your light hair to this dark reddish-brown shade for a more vibrant appearance. This hair color perfectly suits the brown natural hair individual in making them look natural. Remember that you cannot lift your black natural or dyed hair using dark auburn without bleaching.
Hair dyes have chemical ingredients that may be allergic to your skin. It is recommendable you conduct an allergy test before using any type of hair dye. Bleaching is a hair breaking process that can be best handled at the salon. Doing it on your own may seem cheaper though you are not certain of the outcome.
If you have no alternative, bleach your hair as you follow instructions carefully and condition it to restore its moisture capacity. Select the best dark auburn hair dye and launch the application as you follow the instructions provided. Some of the good brands you can look at including the following.
Clairol Natural Instincts Haircolor, Rosewood Dark Auburn Brown 30
Clairol Nice'n Easy Root Touch-Up, Dark Auburn 004R
Clairol Nice 'n Easy Perfect 10 Permanent Haircolor, Dark Auburn 4R
Nice 'N Easy Permanent Hair Color Natural Dark Auburn 112
Hair Color – Garnier – Nutrisse Dark Intense Auburn
Garnier Nutrisse Ultra-Color R.2 – Medium Tint Auburn – hair color
Garnier Nutrisse new Ultra-Color in BL26 Auburn BlackBright Red Hair Color
Red Auburn Hair Dye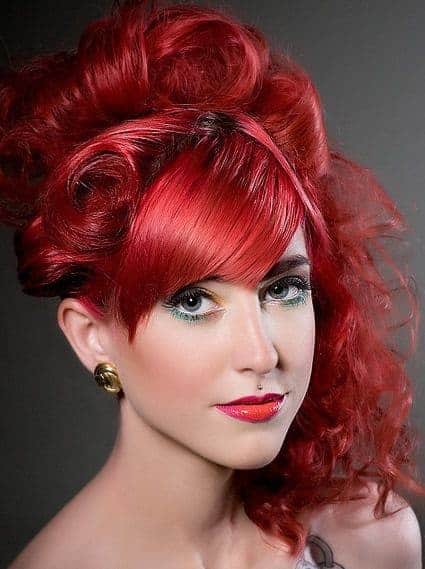 It is very important to know the right and best brand of red hair dye for your hair before ruling out on decisions to do with hair coloring. The salon seems to be the best place to get excellent results of the hair coloring but it is far expensive especially when you have to maintain standing trendy hair color.
There are some fabulous red hair hues from various producers which you can give a trial. Your doctor should also be informed of any brand to avoid cases of allergic reactions. Some of the best intense red hair dyes include the following.
Garnier Nutrisse Nourishing Color Crème
This line of product has fantastic red shades that are capable of giving you a natural luscious appearance. Some of the ingredients used are purely natural hence safe for your health. Example include, Grape seed oil and Vitamin E. The kit comes with a natural conditioner made from avocado which is suitable for nourishing your hair.
The smell is awesome when using this product. As said earlier, your natural hair color should give you clue of the right shade for you. It is quite artificial looking if you dye your blonde or light brown hair using a dark red hair dye. Other alternatives include Manic Panic and L'Oreal Paris Superior Preference. They are suitable for intensive dark red hair color.
Auburn Hair Dye for Dark Hair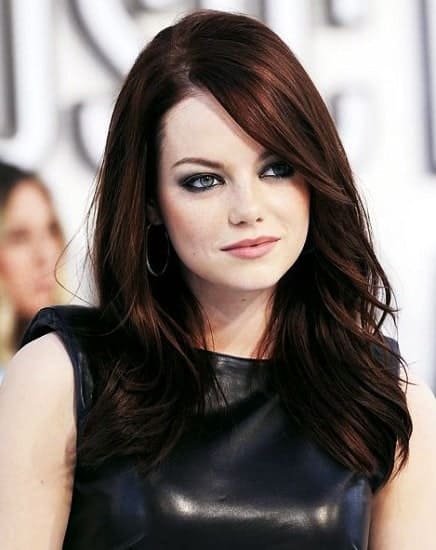 Dark hair is the most difficult type to lift it without bleaching. The dye may show up but once you get to the sunlight then you will be left a disappointed woman. There are products that have mild bleach like peroxide which is not strong enough for lifting black hair.
Lightning is the best thing to do if you want to move from black to Auburn. The process is hair damaging and doing it at the salon can be a relief. For at home preference, you should follow each instruction as directed on the bleach kit. This should be followed with serious conditioning.
Best brand for auburn hair dye for dark should be used in giving your hair a stunning look. Some of the products that are popular due to the good results include L'Oreal's Feria line brand, L'Oreal Excellence HiColor Red, Garnier Nutrisse Permanent Hair Color – Light Intense Auburn R3, Clairol Perfect 10 By Nice 'N Easy Hair Color among others.
Red hair color is susceptible to fading due to heavy pigments that easily wash away. This is why in most cases people complain of short lasing of the red hair dye shades. To ensure this is not happening, use a red gloss and a pigmented shampoo to help in the maintenance of the vibrant shiny appearance.
Natural blonde or light brown is likely to appear intensive brown. This is due to the porous nature of your hair since it allows more seeping in of the dye. Professional colorists have skills on how to give your blonde the right tone of auburn hair dye. When your hair is overly porous, it means that more color is retained and at the same time the cuticle layers don't close back tight making it difficult for the moisture to be held.
"Hair that is dark typically bleaches to an orange or yellow stage, which is usually unflattering. The colorist must have a grasp of color theory to know what colors to deposit on hair to remove the unwanted yellow or orange tone,"[ Titi Branch, of Miss Jessie's]
Auburn Hair Dye for Black Hair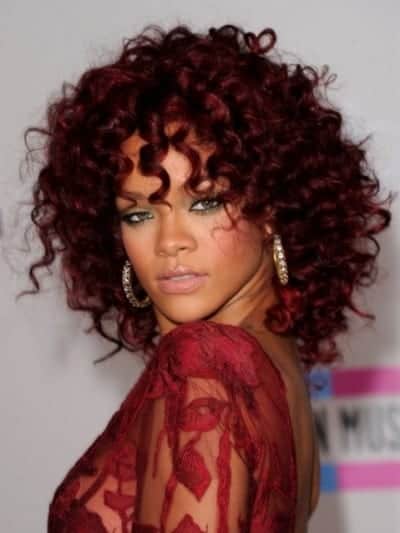 When you have black hair and you want to color it to any shade of Auburn, you will have to bleach it to some few levels. Do not wait until your hair is lightened to blonde instead attain medium brown only. If your hair is currently dyed black then you will have to remove the color using a color striper product.
"Some black hair is curly naturally and this makes it even harder to color. Coloring curly hair is like caring for a baby's skin. Curly hair is more fragile and requires more moisture than other hair textures. It is healthiest when lifted/lightened no more than 3 levels," [Nicola Forbes Martin of Design Essentials]. "Remember, slow and steady wins the race when coloring curly hair," he says.
You can color your dark hair using natural alternatives like henna which has been used in adding color to hair and skin over many years since ancient Asia and Africa to date. The product can also be from various agents either directly or online. The powder is prepared for a paste that is applied to the hair to give it a red tint.
Dark or black hair still not get the best from henna since the red highlight is only seen when in the sun. Some brands of henna are not purely natural and they contain artificial bleaching agents that can also lift your hair to auburn color.
Medium Auburn Hair Dye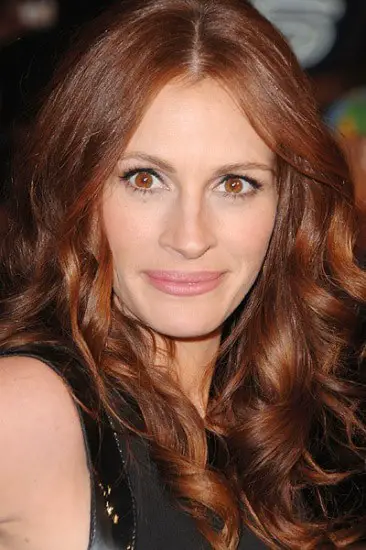 To go medium auburn, you need to have considered your current or natural hair color. This color looks nice when your dark or black hair is lightened to few levels. Following the application of a nice medium auburn hair dye will not give you any doubt in pulling off this hair color. Some of the best brands that are popular include the following.
L'Oreal Paris Superior Preference Color Care System
L'Oreal Paris Feria Hair Color – Intense Medium Auburn (R57)
Clairol Natural Instincts Hair Color, 1 Kit.
Clairol Natural Instincts Rich Color Creme, Medium Auburn 23R
Hair Color – Revlon – Colorsilk in Medium Auburn
Clairol Nice 'n Easy Perfect 10 Permanent Haircolor, Medium Auburn
L'Oreal Paris Preference Fade Defying Color & Shine System
Revlon Luxurious ColorSilk Buttercream Ammonia-Free
L'Oreal Paris Feria Power Reds Haircolor, Intense Medium Auburn/Cherry
Garnier Nutrisse Nourishing Color Foam Permanent Haircolor,
Clairol Nice'n Easy Root Touch-Up, Medium Auburn Medium Reddish Brown 5R/RB
Clairol Age Defy Expert Collection Hair Color, 5R Medium Auburn
Bright Auburn Hair Dye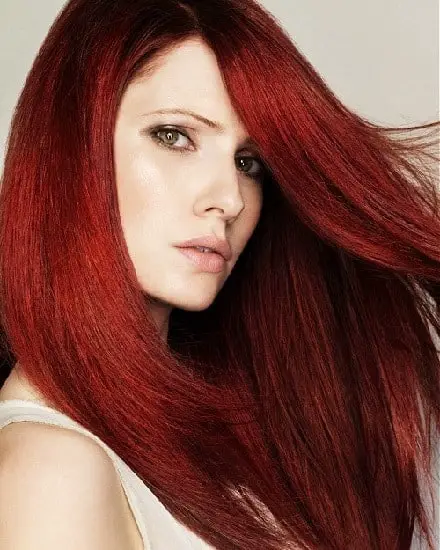 Red hair is one of the vibrant hair colors admired by many women. The only problem that people complain about is the notorious fading tendency of this hair color. Blonde seems the best hair to start with when you want to go bright auburn. Stay above a level 6 if you have to lighten to blonde.
Some of the best brands to use while moving from blonde to bright auburn hue include the following.
Garnier Nutrisse 76 Rich Auburn Blonde (Hot Tamale)
Revlon Colorsilk 45 Bright Auburn
L'Oreal Preference RR-07 Intense Red Copper
Manic Panic Vampire Red
For natural dark hair, you may need a high lift red before application of the bright auburn dye. Bleaching can also be done to some level, but in most cases, bleaching takes your hair to red before going to blonde. At this stage, you can apply your auburn dye, and Garnier Nutrisse Ultra Color Ultra Intense Red for Darker Hair Permanent Color, R3 Light Intense Auburn is the best product to use.
Temporary Auburn Hair Dye
Temporary hair dye can look nice on lightened hair. Your black or dark hair is better lighted to a red-orange stage before application of the temporal auburn. This type of dye easily wash out and has the tendency to fade when exposed to sunlight.
You need to take good care of your hair or else the temporal auburn color can disappoint you. Removing this dye form your hair may require specific shampoo to prevent your hair from a tinge. Always cover your head while in rain to avoid water contact with your hair color.
To apply temporary auburn hair dye on your dyed hair may not be a nice idea. You will have to strip off the dye and go on. Otherwise, the color will not show off. Remember to follow instructions carefully while doing it on your own. The salon is the best place to make decisions about your hair color.