What are proper sleeping positions and posture? Get more insight on proper side sleeping position and posture for neck and back pain. There is also further elaboration on sleeping position during pregnancy. Reading this article educates you on how to avoid neck and back pain by embracing proper side sleeping position and posture.
Proper Side Sleeping Position
Healthy lifestyle involves proper and enough sleeping. Poor sleeping can affect your health in various ways. Most cases of neck and back pain are as a result of incorrect sleeping posture. Side sleeping is one of the recommended as the best sleep position. What to understand is that the whole concept is not just about side sleeping but how do you attain a proper side sleeping position?
There are some considerations that will help you make a proper side sleeping. They include the following. First of all ensure you are lying on your side, this could be either right or left. The head must be rested on a pillow of standard thickness with comfortable pillow materials. Very thick or thin pillows should be avoided since they turn the neck at an angle.
To ensure that this proper sleeping position balances your spine, place a pillow between the slightly bent knees. The knees should not be brought close to the chest. This will create a fetal position that is not healthy for your back. There should be turning to the opposite side occasionally to avoid spine and chest complications.
The bed should be stiff and not sinking. A hard material like a wooden board can be used to support the mattress from the underside. People experiencing back complications are advised to place their mattress to the floor. This will help in the improvement and quick recovery from back pain.
Proper Sleeping Position for Back Pain
You can treat or prevent neck pain by making adjustments on how you sleep. The two ideal sleep posture for neck pain are the side and back sleeping. Back sleeping ought to be done correctly since a poor one can complicate the situation. The rightful way to sleep on your back should involve the following.
Ensure that your spine remains in its neutral position as standing. Lumber support can be ideal for proper alignment of the spine. This can be made by rolling a soft piece of cloth like a sheet around the waist before getting to bed. The mattress should be supportive as sinking mattress will injure the spine. A standard pillow can, however, be placed under the knees to create more stability and laxity for comfortable sleeping.
According to the study those people with back conditions like lumber spinal stenosis experience pain while sleeping in any position. There could be a change only when the knees are bent." When these people are sleeping, whether on the back or side, they like to bend their knees because that brings their legs up and opens up the back of their spine,"[Dr. Nick Shamie associate professor of orthopedic surgery at University of California, Los Angeles and spokesman for the American Academy of Orthopaedic Surgeons.]
Proper sleeping positions for this spinal stenosis patients is attained by placing a pillow under the knees as they are lying on their backs. While sleeping on their sides the pillow is placed between their legs and let to bend the knees slightly. Pain can be eased by sleeping in fetal posture.
Proper Sleeping Position for Neck Pain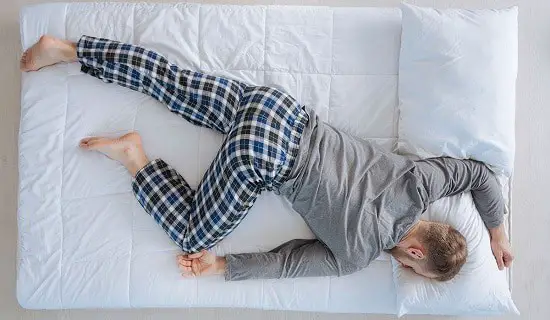 Sleeping on side or back are best postures for people experiencing neck problems. Patients with this condition should not sleep on their tummy. This posture requires the neck to be turned aside hence compressing and straining neck joints.
The pillow to be used in this case should be of the thickness equivalent to the gap between the neck and the shoulders. It is more effective if the pillow is placed at an area above the shoulders. "You want a soft down pillow or something similar that you can kind of bulk and put into the hollow of your neck and support your head,"[ Ms. Brill a neck specialist]
Proper Sleeping Position for Neck Pain Tips
Feather pillows are the most ideal for neck pain. They collapse after approximately one year hence replacement should be done.
"Memory foam" traditional pillows are also the best in this case since they conform to the shape of the neck.
Too stiff and high pillows are not the best. They have tendency to cause neck pain and morning neck stiffness.
While sleeping on side a pillow that keeps your head at same level with your body is effective.
Horse shoe shaped pillow can be used to keep the neck in position by preventing the head from falling while in some situation like watching television or riding in a car or plane.
Proper sleeping position during pregnancy
Proper sleeping position during pregnancy is a mandatory requirement. This is not only a safety for your health but also for the fetus. Pregnant women should not sleep on their back. This is risky and can lead to fainting and cases of dizziness. Back sleeping during pregnancy exerts more pressure on the organs in the abdomen cavity hence impairing digestion and circulation.
"If you sleep on your back, the enlarged uterus presses against the inferior vena cava, the vein that returns blood from the lower body to the heart."[Vera Stucky, M.D., an obstetrician at the University of California, San Diego Medical Center]
Sleeping on the tummy is not recommendable during the pregnancy period. This is putting weight on the fetus. This posture will become difficult especially when the fetus is grown." For obvious reasons, sleeping on your stomach isn't a good idea after the fifth month of pregnancy. And it's so uncomfortable that most women stop doing it much earlier."[Vera Stucky, M.D., an obstetrician at the University of California, San Diego Medical Center]
The best proper sleeping position during pregnancy is to lie on the left side. This allows maximum blood flow to both the mother and the fetus. Sleeping on the right side is not ideal due to the location of the vena cava vessel that is a major supplier of the blood. It is placed at right side of the body and can be pressured.
Therefore, it is evident that proper sleeping position is key to the overall health of our bodies and we should always strive to attain a proper and significant sleeping posture.