How can you lighten your hair? Get more insights on how to lighten dark hair, naturally fast with lemon juice, hydrogen peroxide, honey, cinnamon or mineral oils such as olive at home without harsh chemical bleach.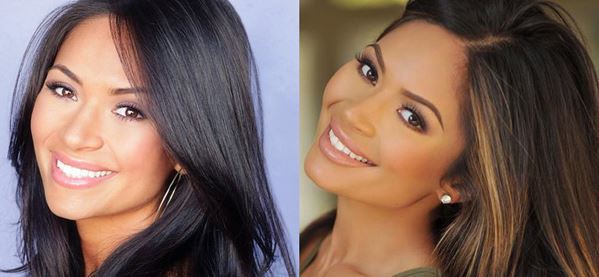 Lightening dark hair at home requires patience and consistency especially if you are using home remedies or rather natural ingredients. Chemical lightening treatment is fast and instant although it is regarded harmful to your hair due to damaging effect. Here are some of the best ways to go about it.
How to Lighten Dark Hair with Hydrogen Peroxide
Hydrogen peroxide is a bleaching agent and can as well be used to lighten hair at home. You only need to be keen on how you do it. Here are procedures on how to lighten hair using this ingredient.
Wash your hair as normal and condition it, part it dry with a towel and not necessarily blow drying. Allow it to dry naturally for 30 minutes and gently comb it. This helps in the removal of oils and dust that can interfere with the bleaching process.
Find where to buy hydrogen peroxide 3% solution and mix with an equal amount of water. A more concentrated solution than this can damage your hair. Put the solution in a clean spray bottle. Go through the steps on how to lighten dark hair with hydrogen peroxide before you begin the process.
Perform a strand test as explained above. This will help you to determine the intensity of the outcome. Apply hydrogen peroxide on a small lock of hair using a cotton ball and give it time to make a change.
Use hair clips to make your hair into sections. This will enable you to apply the hydrogen peroxide solution effectively on every strand of your hair. Doing the whole head at once may leave some sections or strands unaffected.
If you intend to bleach the entire hair, use the spray bottle to apply the solution. Make it thorough and ensure you are combing the sections you have clipped for even distribution of the compound.
If you want to create natural highlights, use a cotton ball wet with hydrogen peroxide to apply the solution into the hair strands that are intended to be highlighted. For more natural silky appearance, start the application at the roots as you stroke down to the hair tips.
For bringing ombre hues, apply from the tips as you stroke down the roots for the sections that you desire. At the end of the treatment, the tips will appear brighter as it fades towards the dark roots.
Let the hydrogen peroxide act on your hair for about 30 minutes. Remember the outcome on how does hydrogen peroxide lighten hair will depend on the amount and the time you have allowed the solution in your hair. You can spend few minutes in the sun if you want the process to be faster.
When you have attained your desired shade of highlights, now use cold water to rinse off hydrogen peroxide solution from your hair. Condition it deeply and rinse with more cold water. Let the hair to dry then make your desired style.
How to Lighten Dark Hair Naturally with Lemon Juice
Lemon juice is a strong natural bleaching agent. It is not only used for skin lightening but also for natural hair lightening. To use this treatment observe consistency and patience. Here are steps on how to lighten your dark hair with lemon juice.
Obtain a lemon fruit. One might be enough for medium length hair, but take two if your hair is super long.
Cut the fruit into two halves and squeeze the juice into a clean container like a cup.
You can opt to apply the juice directly to your hair using a brush or you can mix with warm water and spray using a spray bottle.
Spray the solution on your hair until it is dump. Note that for better results; do not wash your hair before spraying and you will be amazed on how lemon juice lightens hair fast.
Find sun to activate the bleaching and sit for about one hour. You should start observing the changes after the first 30 minutes.
After the changes now take shower to wash off the juice from the hair. Your hair will appear dry due to the effect of citric acid just after your natural treatment on how to lighten dark hair.
Dry your hair and apply a conditioner to rejuvenate it from the dryness effect of lemon juice.
Remember one session of application is not sufficient enough to give you the desired outcome.
Repeat for approximately four to five times to realize what does lemon juice do to your hair.
You can also combine a mixture of lemon juice and conditioner and apply directly on your hair before sitting in the sun for bleaching.
While using this process, remember that you require sunlight. However apply sunscreen to protect your skin against sun burn effects of UV and UVB radiations from the sun. Take care to avoid direct contact of the ingredients to your eyes and the scalp since it is irritating.
As mentioned earlier, do not expect instant outcome. The hair changing process can take time and you will observe color changing in stages. Dark brown hair is likely to turn to light brown then golden blonde. Dark blonde will change to light blonde and light red hair to brown or blonde respectively.
Does lemon juice lighten black hair? Black hair is quite tough and may change very slowly after a number of treatments. For some people it doesn't change at all. Too much application can result to orangey appearance of your hair.
How to Lighten Dark Hair Naturally with Honey
Honey has been proven effective in lightening dark hair especially when combined with hydrogen peroxide or other natural ingredients. Apart from bleaching using this ingredient on your hair gives it not only a beautiful appearance but also a soft shiny look.
How does honey lighten hair? Here are the steps on how to lighten dark hair naturally with honey.
Mix honey and distilled water in a ratio of 4:1. This helps to dilute honey since it is always too sticky. Add some apple cider vinegar to act as a conditioner. Alternatively you can mix with your favorite hair conditioner.
To boost the honey bleaching effect, add little amount of hydrogen peroxide which is an effective hair lightening agent.
Give the mixture some time to settle as you carefully go through the instructions on how to lighten dark hair with honey. With your shoulders protected with a piece of cloth, pour the mixture on your hair as you use your fingers to distribute it evenly.
When your hair is completely covered with honey, cover it with a plastic wrap or cap and allow the reaction to take some time. The best time to do this is overnight for more effective outcome but protect your beddings from the staining effect of honey.
Using some warm water, wash honey out of hair and pat it dry with a towel. It is good to let it dry at room temperature with no need of a blow dry.
Use shampoo and hair conditioner as normal and your hair will not only attain golden hues of honey but look soft, shiny and bright.
You can alter the appearance by adding specific ingredients. For reddish blonde color hues add cinnamon, henna or ground coffee.
How to Naturally Lighten Dark Hair with Chamomile
Chamomile tea over many years has been proven to be a suitable at home hair lightening ingredient. To prepare you require chamomile tea and water. Brew the mixture and apply to your hair after some time and get to the sun. Rinse your hair and apply a conditioner.
To obtain more desirable results, you can carry out the treatment constantly until you achieve what you require. You are recommended to cover your shoulders with a wrap or a piece of cloth to avoid staining effect of chamomile tea.
Cinnamon and Conditioner for Hair Lightening
You can also try cinnamon if you are planning on how to lighten dark hair naturally. Obtain cinnamon powder and a little amount of conditioner. Mix the two ingredients and apply on your hair thoroughly. Ensure it is evenly distributed or rather you can comb the mixture in the hair.
For more effective outcome, conduct this hair lightening treatment before bed time and cover your hair with a shower cap to allow it process overnight. In the morning rinse and shampoo your hair. For more intense highlights, you can apply severally until you achieve your desired level.
More stunning results can be attained simply by consulting a nearby hair styling expert. If you are not sure of any treatment on how to lighten dark hair, do not blindly get into it but rather seek professional assistance.